Share
Product Details

Product Size:7.8 x 7.8 x 5 cm

Product Weight:130 g

Material:Pump : ABS Plastic, Rubber / Vacuum Bag : PA&PE

Power Source:built-in lithium battery (600mAh)

Function:Vacuum+Inflation

Usage:Home Storage, Food Preservation, Travel, Outdoor, Camp
B2B Information

Item No.:VAC001B-S

Package:color box with blister window

Package Size:16.5 x 27.5 x 9.5 cm

Package Weight:550 g

Certification:CE, PAHS, RoHS, REACH, WEEE

Packing:12 sets / Carton

MOQ:1,008 sets

Lead time:45 Days

Place of Origin:Taiwan

CCC CODE:84141090003
DR. SAVE DUO is not only able to vacuum the air out of the vacuum bags to save space or keep food fresh, but also able to inflate air into swimming rings or beach balls for sport.
The product features are:
Small size, lightweight and easy to carry.
Multiple purpose for vacuum and inflation:There is one inflatable port on the side, which can be used with adapters in the package, suitable for various inflatable products on the market, such as: inflatable mattresses, swimming rings, all types of balls, and children's toys.  The lower exhaust port can be used for quick air extraction, which can remove the air in various inflatable products for convenient and fast storage.  At the same time, it is suitable for 90% of storage bags and food preservation bags and vacuum canisters on the market, which can save storage space and extend the freshness of ingredients.
Built-in long-life lithium battery, no need to change battery frequently:The built-in 600 mAh lithium battery can be recharged by using only ordinary USB power, and it can be used for more than 1 hour when fully charged. No power cable or battery replacement is required while using.
DR. SAVE DUO can be used after fully charged, also it can be connected to the power bank and use while charging.
One tool amazingly for all. That is why DR. SAVE DUO is the best tool for travelers.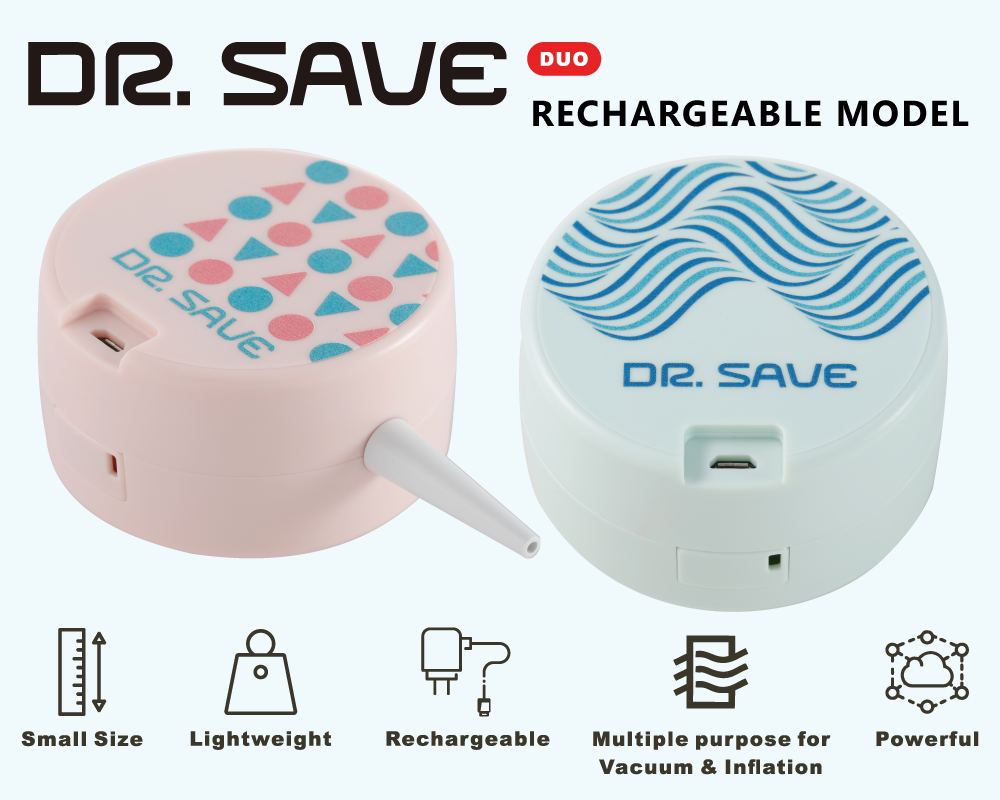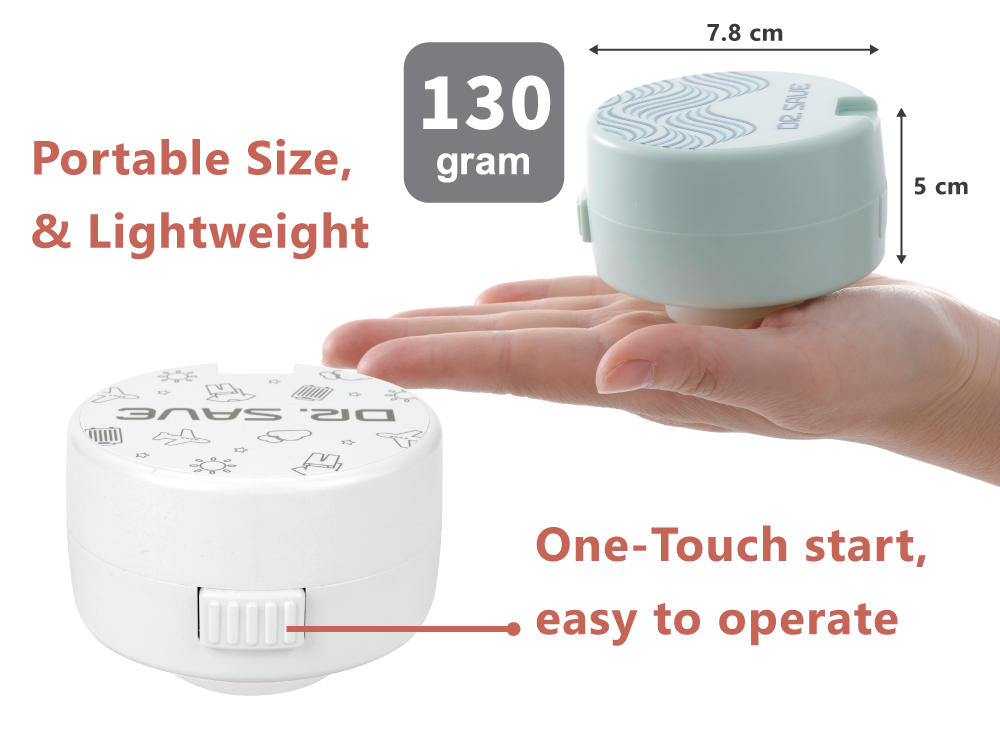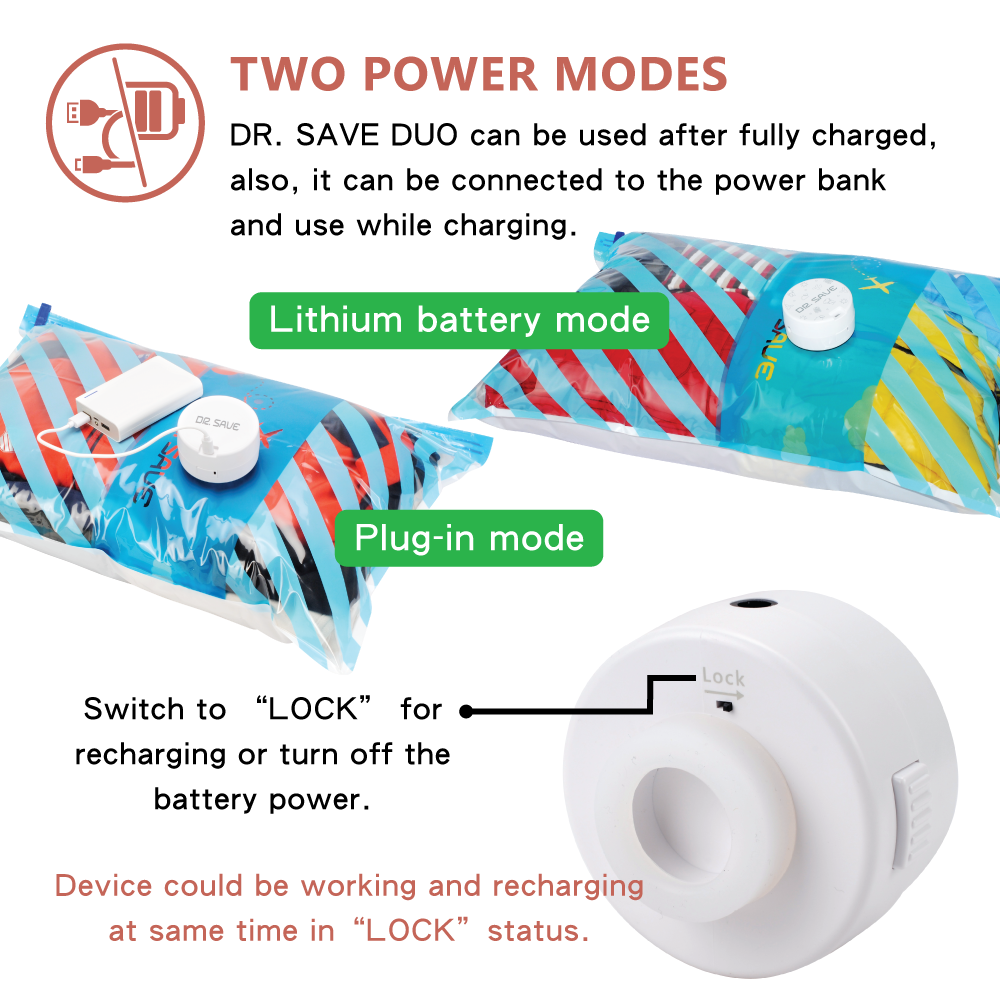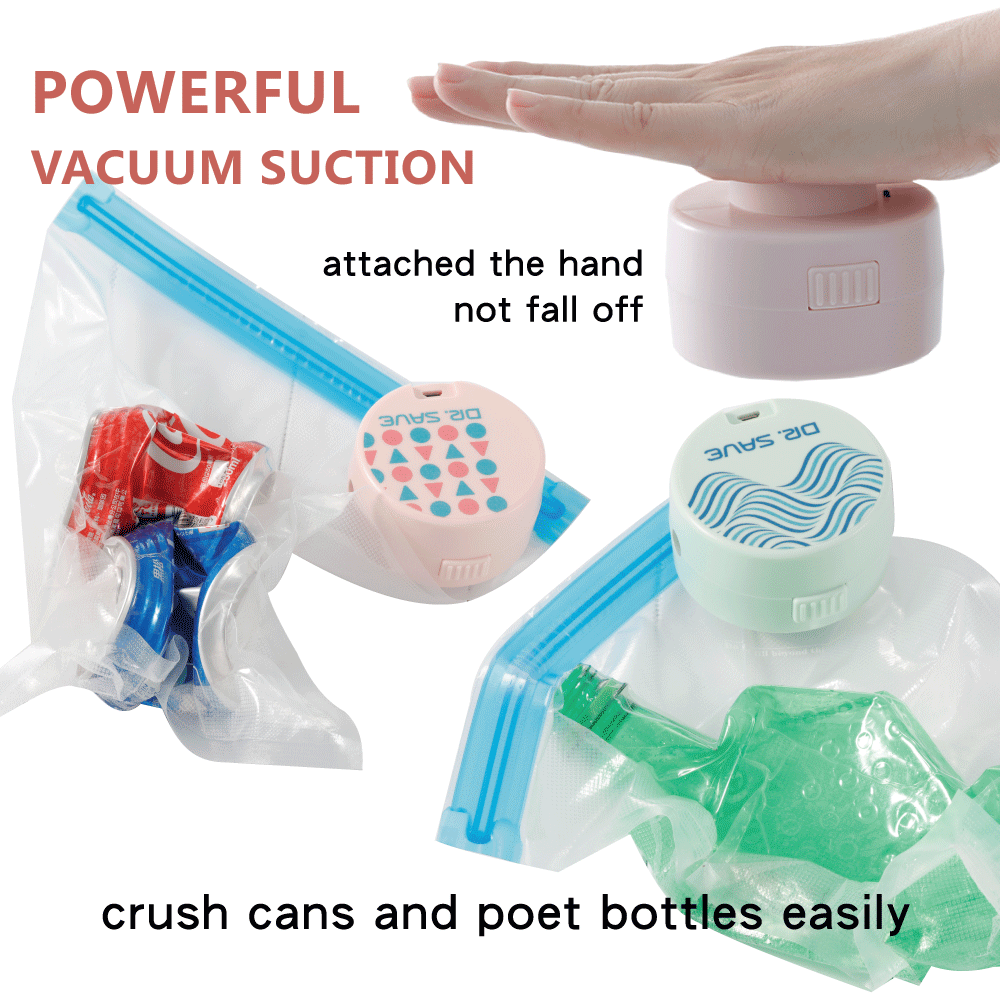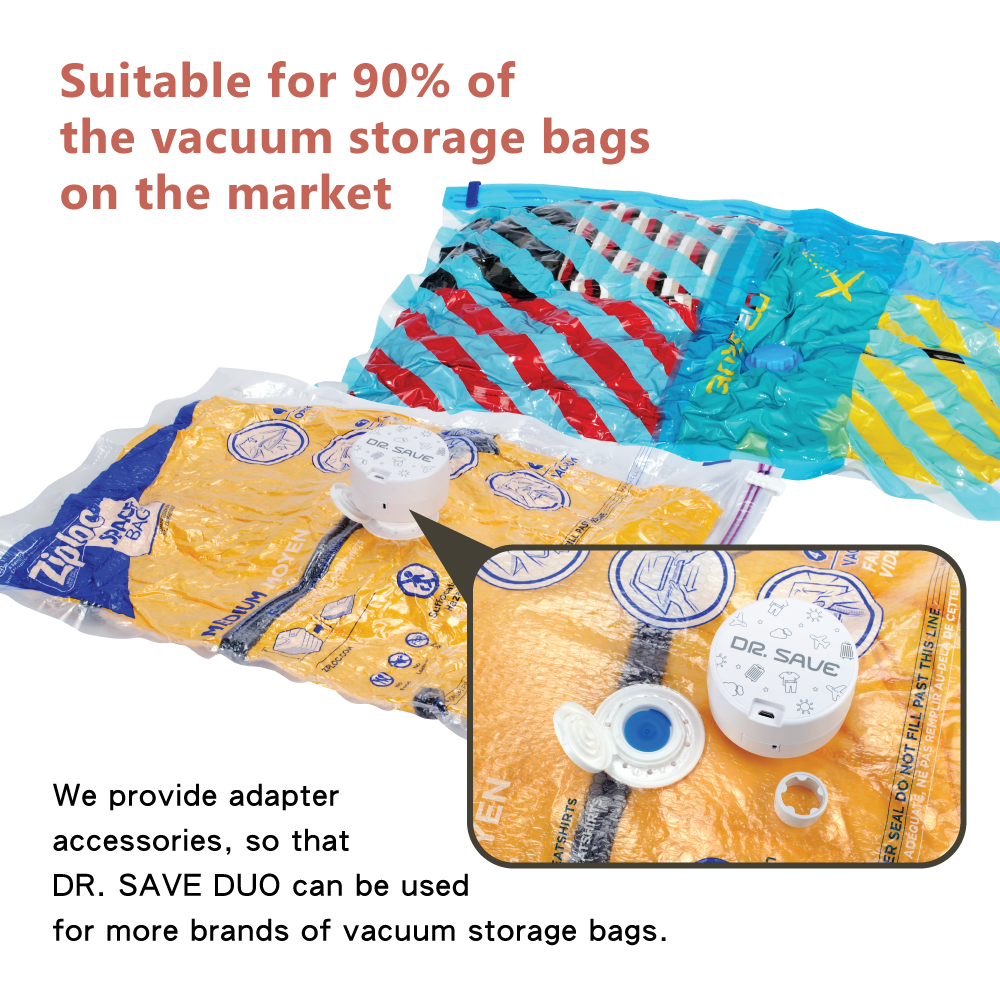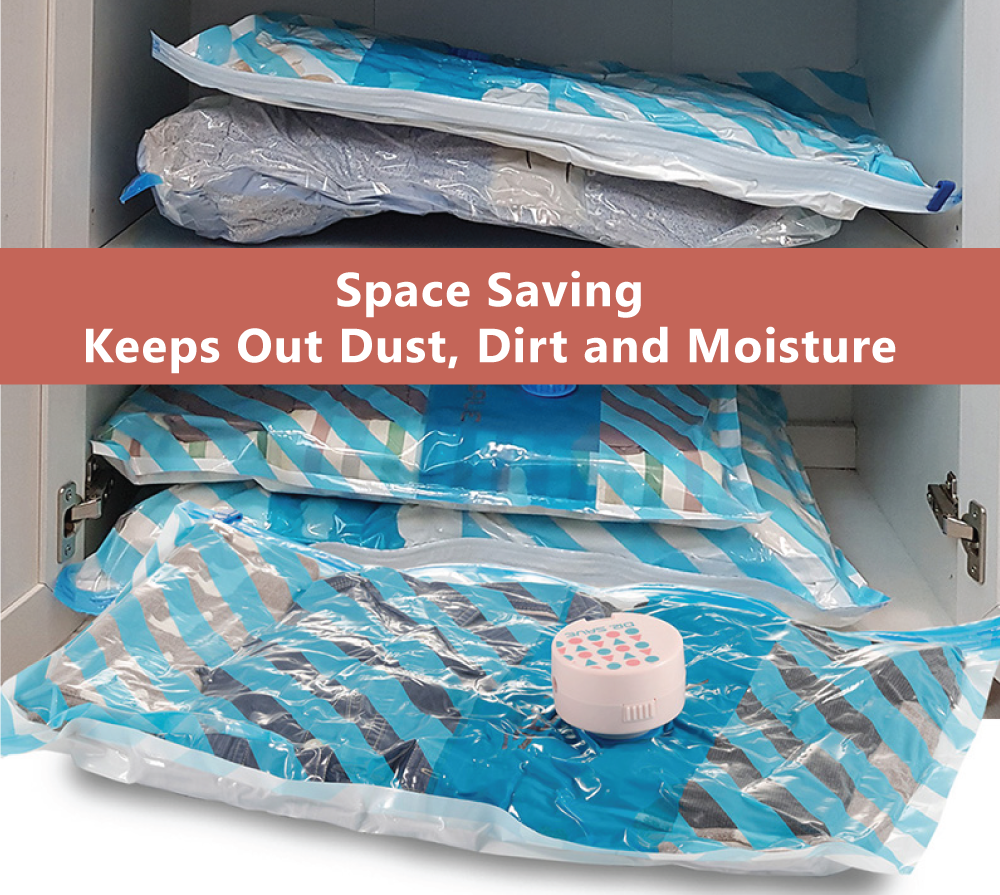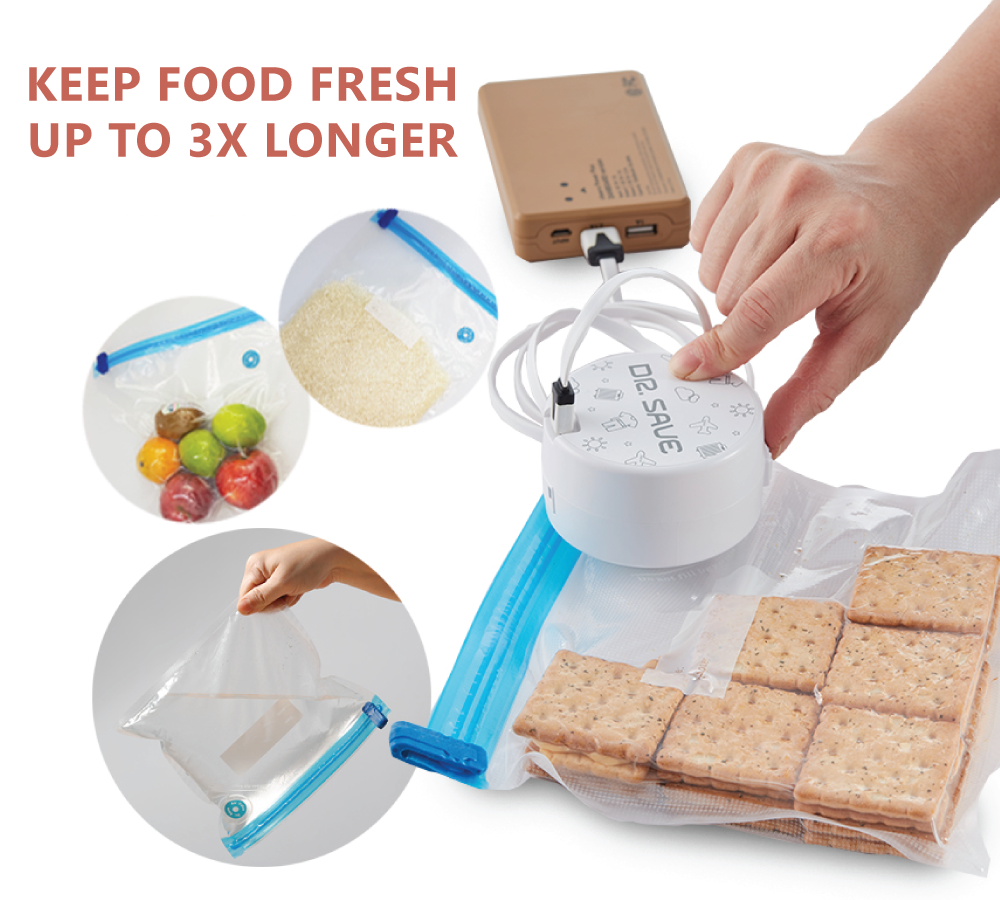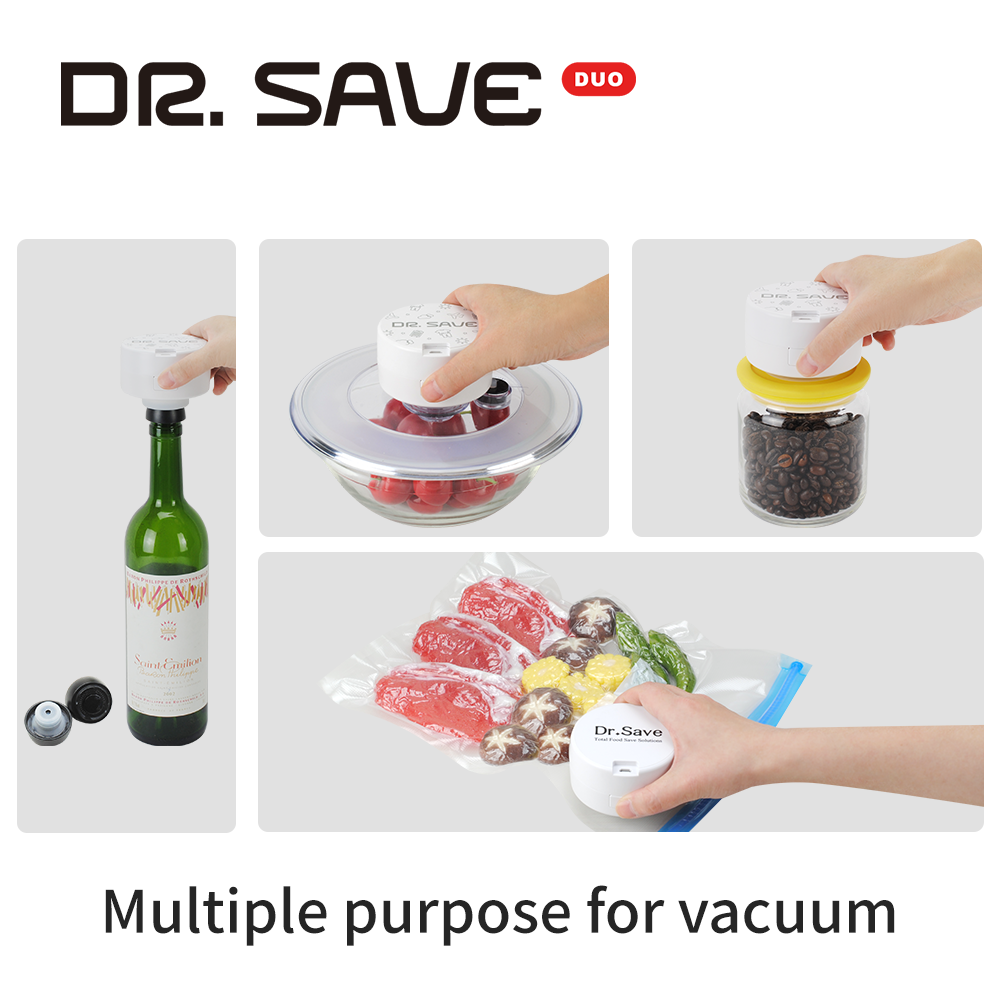 | Air Pump Function |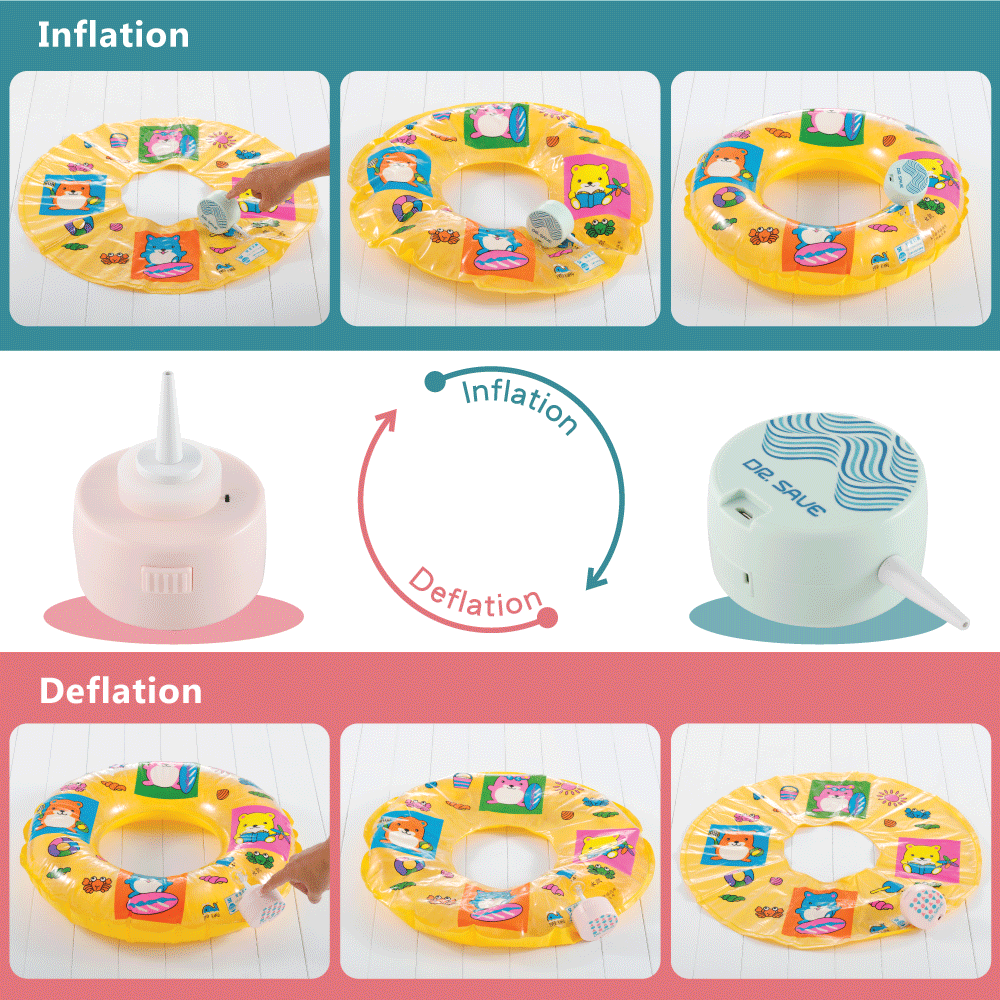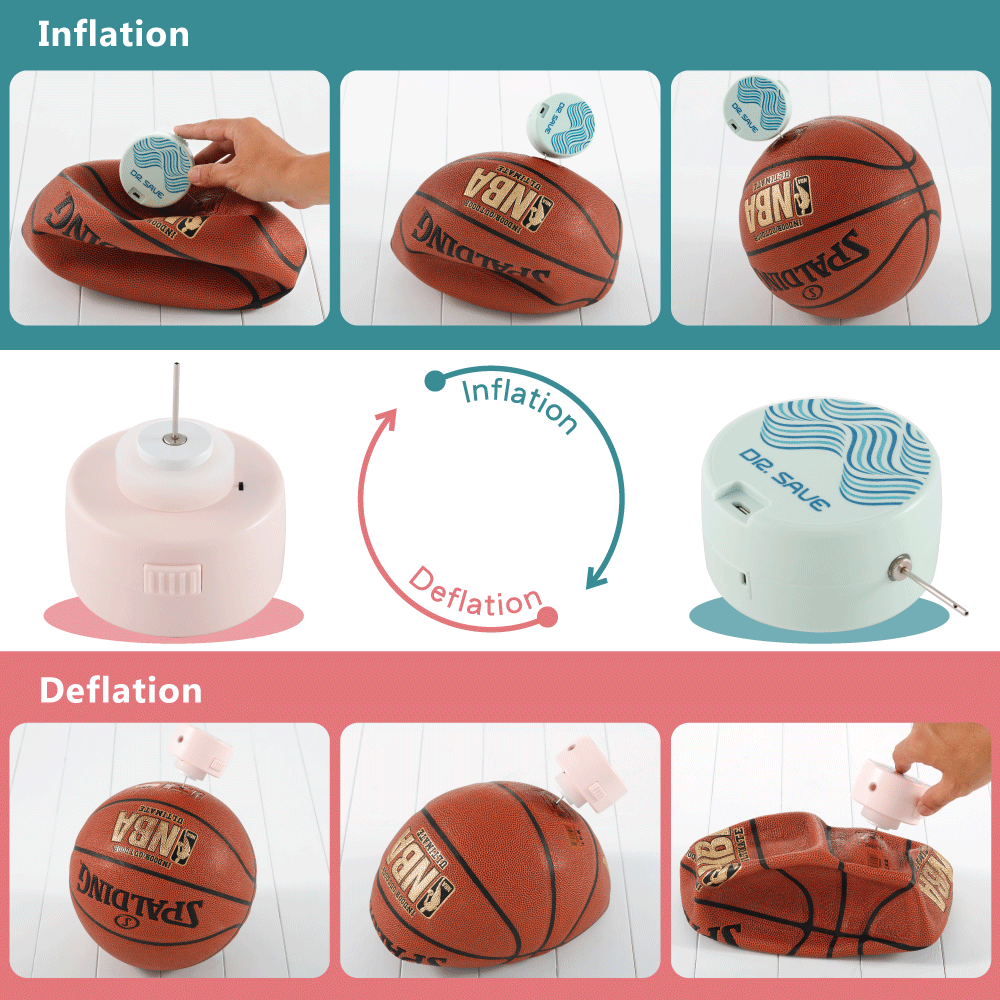 Inflation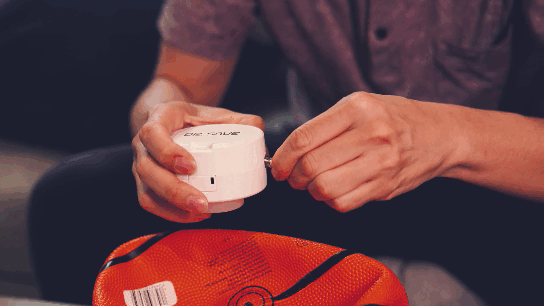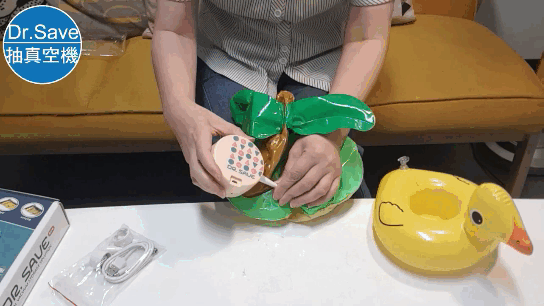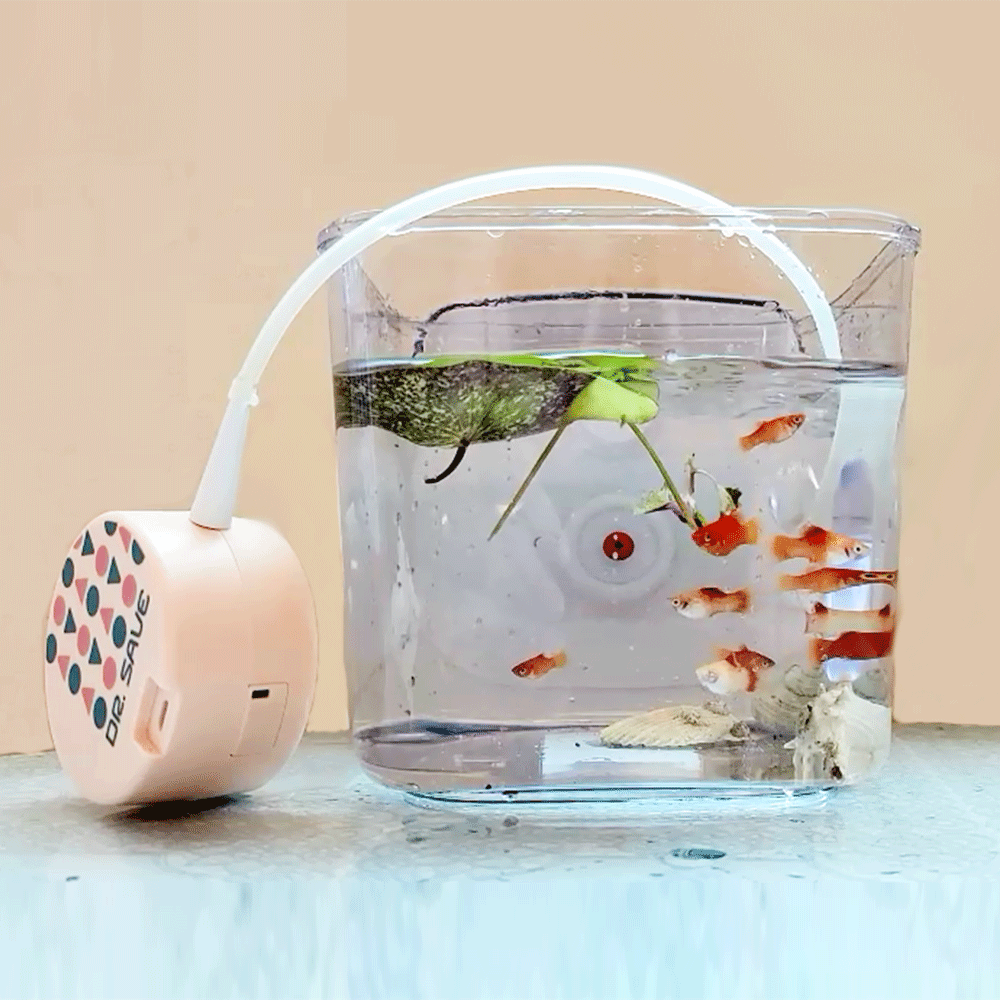 Deflation - Easy to store inflatable items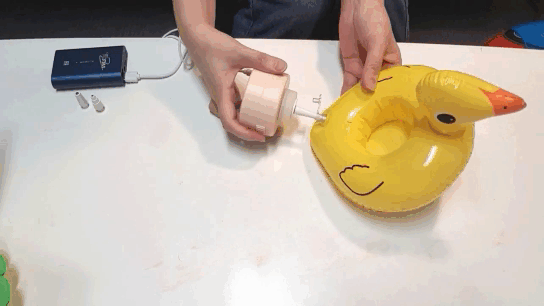 | How To Use |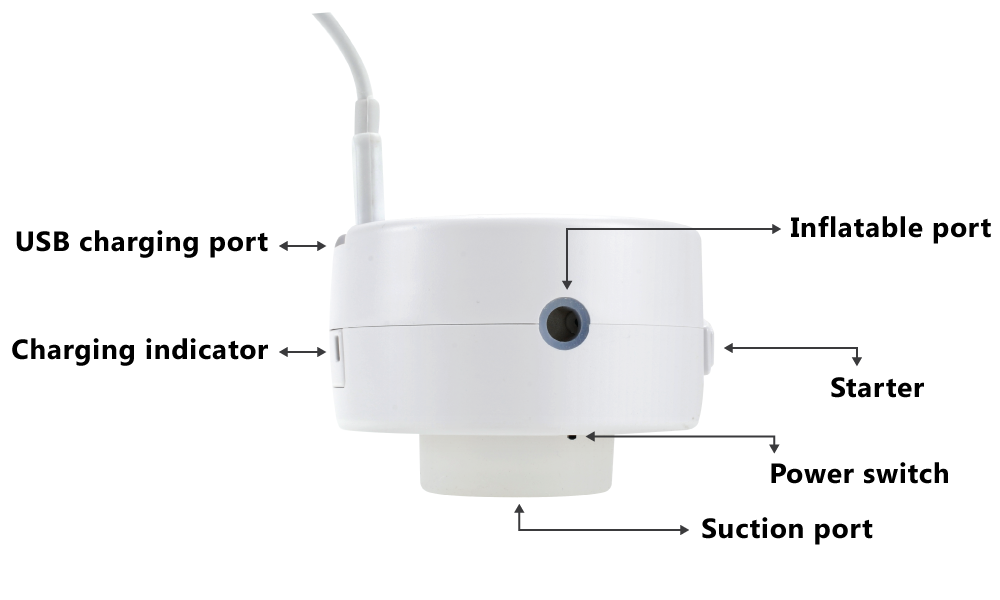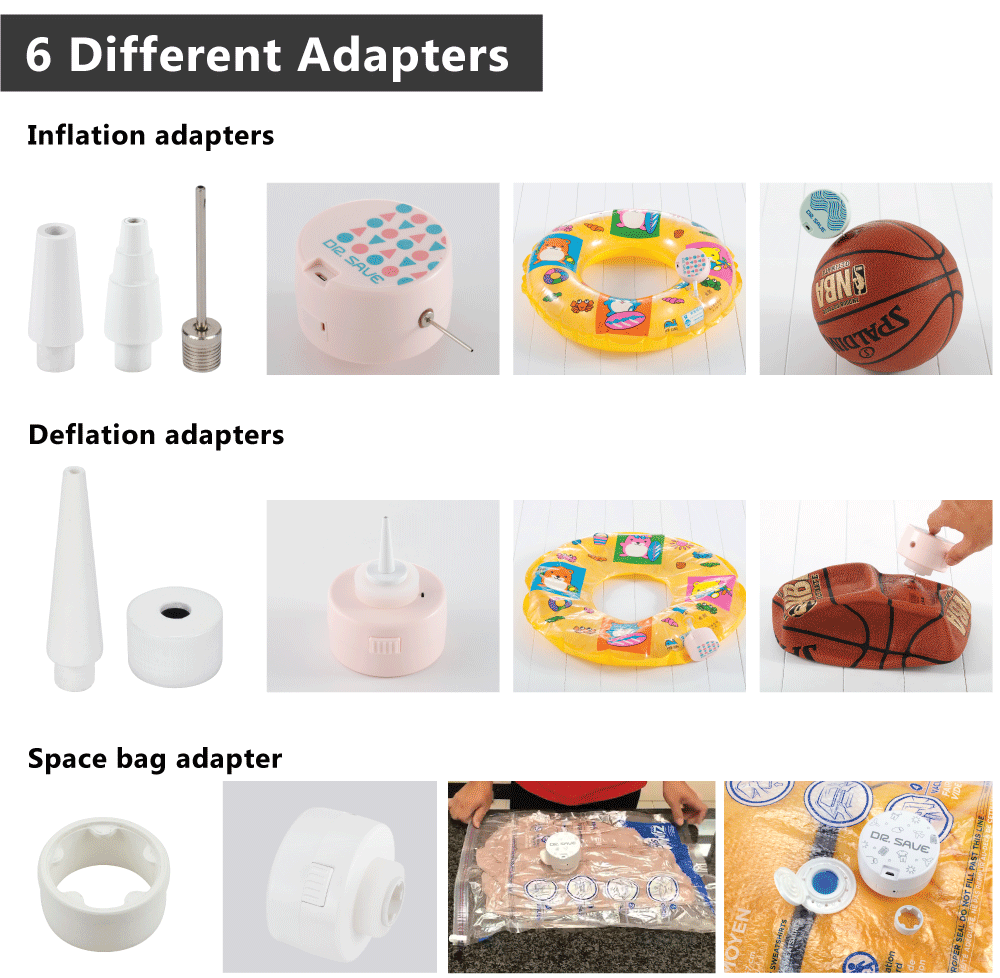 | Package Content |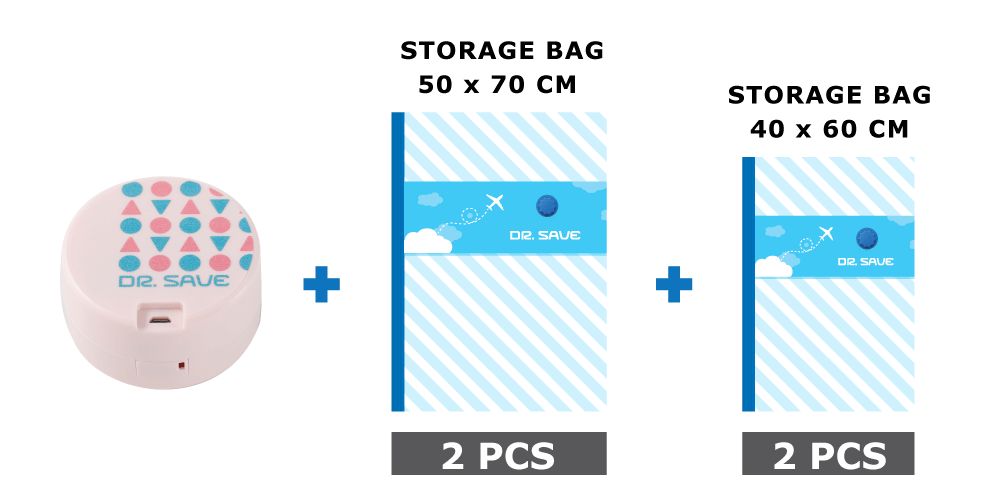 1 piece vacuum pump with rechargeable battery and vac+pump function
6 different adapters for vacuum & pumping function
1 micro USB cable, 100cm
2 piece vacuum storage basgs (40x60 cm)
2 piece vacuum storage basgs (50x70 cm)
1 piece accessories bag
1 piece user manual
View full details